LVT Floor Cleaning (Dr. Schutz Applications)
Vinyl Floor
Cleaning & Sealing
Professional LVT Floor Cleaners in Newcastle, you'll be floored by how far we go to get the best possible results.
We can clean, restore and polish a range of LVT surfaces, both in commercial and residential settings. Our services include:
Vinyl floor cleaning and sealing
Anti-slip treatments
One-off deep cleans
Emergency flood cleaning services
We only use the best products to treat your LVT flooring, including Dr. Schutz hard sealers for a protective, scratch-resistant finish. We can gently strip, restore, clean and polish all types of vinyl flooring, including Karndean, Amtico and Polyfloor.
Your flooring is in safe hands with the Paul Dyson team, and we are committed to ensuring a lasting finish, offering permanent seals that will protect your floor for life.
Wondering how we might be able to help? Call us now on 0191 2666 111.
Dr. Schutz
PU Sealer Application
Looking for a hardwearing, anti-slip solution to your commercial hard flooring? Paul Dyson can help.
We are committed to providing the best possible hard floor cleaning solution for you and your business. It is important to acknowledge that modern flooring requires an equally modern and innovative cleaning process, and sometimes it's about the little extras.
One extra that provides long-lasting slip-resistance and long-term protection against dirt and staining is a PU sealer. This is ideal for hard flooring in high traffic areas. We have applied quality sealers in local restaurants, care homes, hospitals and schools, ensuring that the flooring both meets and exceeds the GB HSE guidelines of low-risk slips.
With protection against scratches and friction damage being six times greater than flooring without the lacquer, it is a worthy investment for your work environment.
We offer a 3-year warranty when the PU sealer is professionally applied by Paul Dyson Commerical Floor Care.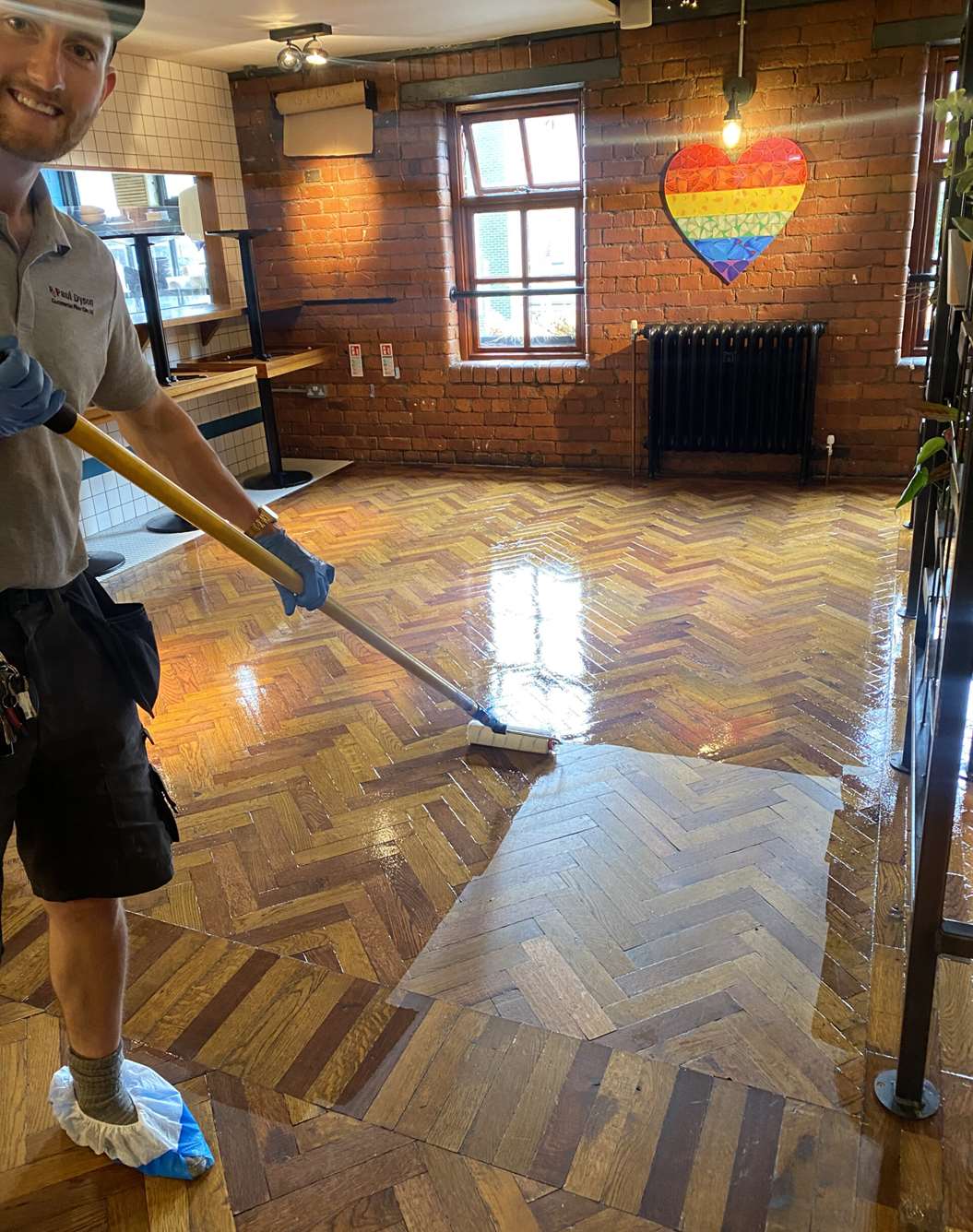 Local family
business
Reliable & trusted
1st class services
25 years
experience
Highly trained
& professional
Customer Reviews
"Great friendly service and excellent communication throughout. Would use this service again and recommend to friends and family."
Jayne Jackson
"I had 2 sofa frames and 2 rugs cleaned by Paul Dyson. I could not fault the service and the results. Very courteous, professional and friendly. I also had a couple of stains on another carpet that they offered to do a spot clean at no extra charge. I will definitely use Paul Dyson again, and cannot recommend them highly enough."
Sue Collings
"Amazing service, I wouldn't go anywhere else now"
Sophie Miller